Roosevelt High School
Class Of 1984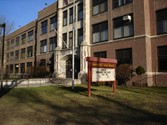 In Memory
Joel Bursinger VIEW PROFILE
Joel Keith Bursinger
Bursinger, Joel Keith Born December 3, 1965 in Edina, MN, died April 10, 2010 in Suwanee, GA. "Smilin' Joe" Bursinger to family and friends, Joel was a dedicated husband and dad of four children. Raised in Minneapolis, Minnesota, and later earning a degree in Finance, Irish Joel later moved to Chicago to advance his sales carrier with Allegis. After meeting his beloved wife, Stacey, he relocated to Suwanee, GA, where he loved family life. His passions included: boating on Lake Lanier; gardening and feeding wild birds; riding on his 4-wheeler with his children; working with his tools; and fly fishing. Joel cheered for the Braves, as well as his son's baseball and soccer teams, and cub scouts slot car races! His neighbors and buddies at Antigua were highly valued friendships. Still a season ticket holder for the Minnesota Vikings, Joel also returned to his home state for family reunions, continuing childhood friendships, and work meetings. We will always remember your contagious smile, enthusiasm for life, and your great sense of humor, dear Joel! He is survived by his wife, Stacey Bursinger of Suwanee; sons, Evan Bursinger, Jake Bursinger, and Owen Bursinger; daughter, Haley Bursinger; brothers and sisters-in-law, Les & Kristen Bursinger, Jerry & Alison Bursinger; sisters and brothers-in-law, Kathy & Doug Wells, Lisa & Mike Carlson; and numerous nieces and nephews. A memorial service was held at 3:30 p.m. Wednesday, April 14th, at the Aqualand Marina, Lake Lanier, GA.
http://www.legacy.com/obituaries/startribune/obituary.aspx?n=joel-keith-bursinger&pid=141811688
Click here to see Joel's last Profile entry.